Cover Art and Art Licensing
Jocelyn offers her art for licensing. She also works with designers, architects, galleries, manufacturers, retailers and publishers on creating custom art collections.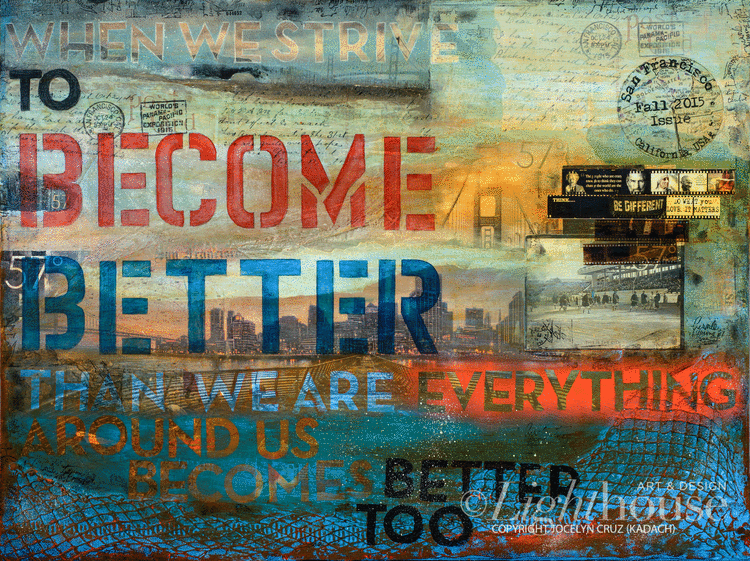 "57 Degrees - San Francisco" Fall 2015 Issue Magazine Cover
Materials used in Original Painting: Acrylic medium, gels and paints, Stitched and Distressed Leather. Reclaimed & Found Objects include: 57 Degrees Magazine clippings, San Francisco Chronicle Newspaper, Vintage Letters, Stamps, San Francisco Nautical Chart, nails, screws and recycled tissue paper.
Word Art/Quote: "When we strive to become better than we are, everything around us becomes better, too." (― Paulo Coelho, The Alchemist)
Other Details: Artwork was commissioned and published by 57 Degrees: San Francisco Magazine for its Fall 2015 Issue Cover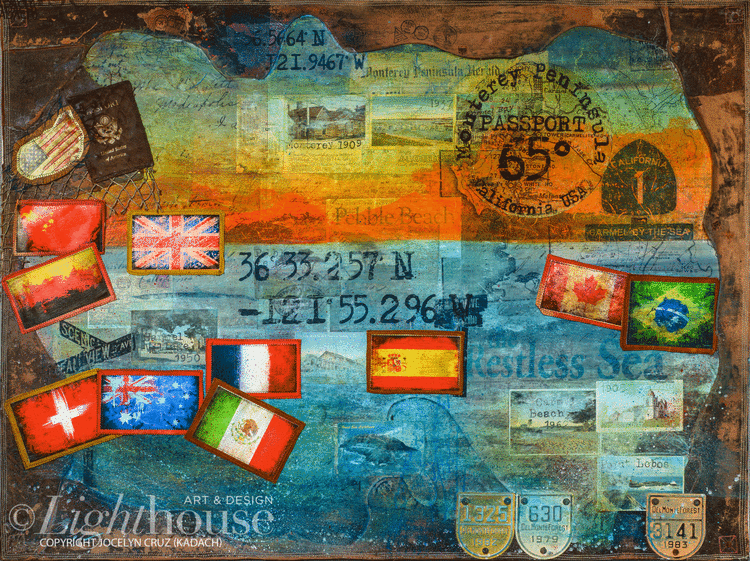 "65 Degrees - Monterey Peninsula" Passport App Artwork
Mixed Media Painting on Canvas for 65 Degrees Magazine Passport App Artwork
Materials: Acrylic medium, gels and paints, Stitched and Distressed Leather, Nails, Reclaimed & Found Objects (Vintage Monterey Peninsula Postcards , Theater Tickets, Letters, and Nautical Charts, Pebble Beach Del Monte Forest - 17 Mile Drive Entry Plate Badges, and recycled tissue paper)
"65 Degrees - Monterey Peninsula" Fall 2015 Issue Magazine Cover
Word Art/Quote: "Life is really generous to those who pursue their Personal Legend" (― Paulo Coelho, The Alchemist)
Mixed Media Painting on Canvas for 65 Degrees Magazine Fall 2015 Issue Cover Artwork
Other Details: Artwork was commissioned and published by 65 Degrees: Monterey Peninsula Magazine for its Fall 2015 Issue Cover